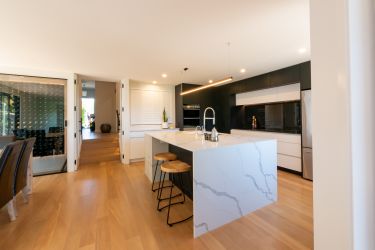 With Paint – White's White, Right?
We've recently written a 2019 colour forecast that's more up to date than this article. Check it out!
The scope of white paints, can be a bit bamboozling. Black based white's, warm whites, cool whites and so on and so on....
White is such a versatile option for so many different types and styles of properties and projects, so we thought that this could be a great topic to gather some advice on from the experts in paint, Resene. Here are some of their hottest tips and suggestions on how to select the ideal neutral base for your home.
Enjoy!
White Paint Colour Advice – Resene
While we all see the colour trends go from red, orange, to pink, blue to green and back to teal, what is less obvious is how much the whites and neutrals move too. We know colour choices are always evolving and changing, which is why we regularly update our The Range whites and neutrals fandeck.
The latest fandeck includes a selection of new colours and introduces favourites from other colour ranges to give you the best of the best in one handy fandeck. With the popularity of grey, the range of grey hues has been expanded also.
The new fandeck is available from your Resene Representive, Resene ColorShop or you can order online from www.resene.com/specifierorder.

Top of the Colour Pops
If you think you know the most popular Resene colour you might be surprised to find out its not Resene Alabaster. While Resene Alabaster is a very close second, Resene Black White has snuck in front to be crowned Resene's top colour.
Chances are you have seen many of these colours already adorning walls. These colours share a common trait – they are very versatile and easy to dress up or dress down in a colour scheme by the addition of other features.
If you are looking for neutral options, the Resene whites and neutrals A4 colour chart is often the best place to start with a good range of the most popular options without being overwhelmed with too many choices. If you decide on a colour, but would like to see other variants, you can use the individual whites and neutrals palettes or The Range Whites & Neutrals fandeck to see more options.

Resene Pitch Black is from the Resene Exterior wood stains colour chart and can be used outdoors in the Resene Woodsman range or indoors in Resene Colorwood wood stain.

You can also order all of these colours as A4 drawdown swatches, via the Resene website, www.resene.com/drawdowns.