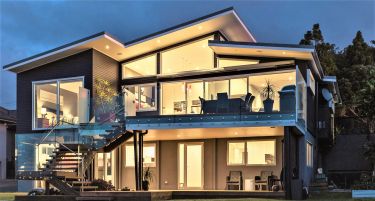 Forever Home in Mt Albert Scoops Up Two Awards
Mt Albert
We would recommend Alpha 1 Builders to anyone who would like something built to the highest of standards with the minimum of stress.
Jo and Mark contacted us as they were ready to build the home of their dreams, an architecturally designed new build in the heart of Mt Albert.
After scouring the real estate mags for months, they came across a magical site with a shared vista of Mt Albert Grammar School farm and Sky Tower with city scape. The fact that the site had an existing home on it didn't faze them at all, they just got to designing and left the demolition and removal to us.
Working in with the architect right from the beginning allowed us to work through all the various council requirements that a site like this need. Height to boundary, storm water run-off, traffic management, access to the site just to name a few!
The build was a huge success in every way, and achieved two Master Builders Gold Awards. Leaving both the owners and Alpha 1 Builders very proud of this home.
Browse more projects
Previous Project
Next Project