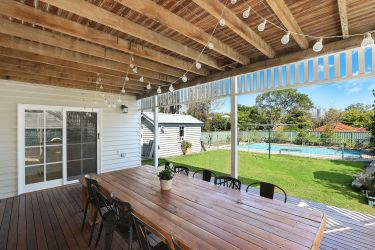 Outdoor Rooms and Why You Need One at Your Place
We Kiwi's love our 'indoor-outdoor flow' and quintessential bbq's. After all, they are the backbone of our summers. SO...
What happens when it is hot enough to fry an egg on your deck or it's raining cats & dogs?
This is where the 'outdoor room' comes in. They are such a great versatile addition to the home. Adding so much value.
How could I use one at my place you ask?
Creating a shady spot for alfresco dining with your mates.
An ideal spot for kids to let loose & burn off some energy while the garden is soggy.
A cosy place to curl up and read a book in peace.
The perfect place to host a screening of the AB's (happy wife happy life)
A sheltered place to dry off after a dip in the pool.
The choice really is yours and they are endless... So, we have put together some inspirational options for you to ponder over your summer holidays.
Keep cool by the pool
This stunning covered outdoor room makes the most of the access to both the alfresco dining area with all important bbq station and the pool and loungers. Ticking plenty of boxes here!
Lounging about
We love how this space connects with the rest of the home. The beautiful custom built bench seat just beckons us to curl up with a good book.
Cosy all year round
How cosy does this outdoor room look, with beautiful timber ceiling details and a toasty warm fire I know where I would be heading when the temperature starts to change.
Lovely louvres
With such high Melanoma rates, we do need to be careful with sun exposure. Louvres are a fantastic option, as you can completely shut out the elements or simply filter them. Allowing you awesome flexibility for your outdoor room.